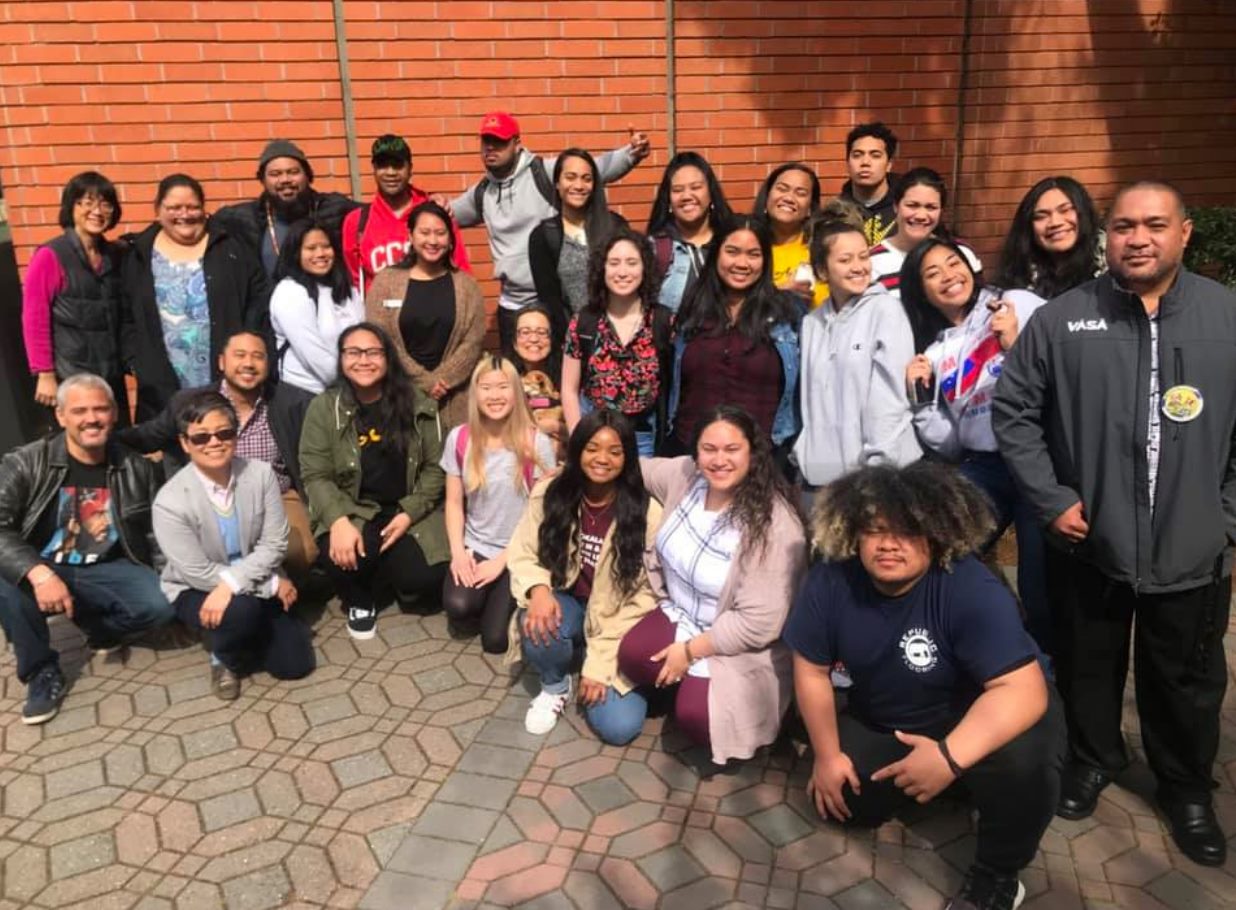 *SFSU and CCSF students, administrators, and faculty celebrate the approval of the CPIOS Minor | March 18, 2019
PROGRAM SCOPE
Critical Pacific Islands and Oceania Studies at SFSU was built on the legacy of the TWLF and College of Ethnic Studies as students, faculty and community advocated for academic spaces that honored Pacific peoples, culture, history and knowledge.
The program ensures that academic and communal spaces reflect the work and needs of Oceanic communities in the bay area and globally. Our educational mission is to honor Oceanic peoples, experiences, and stories throughout the diaspora - and to privilege narratives that are often forgotten and placed in the margins. Significant parts of our interdisciplinary studies program are focused on historical and contemporary topics in relation to California, US-Pacific politics, and Pacific peoples and cultures. Courses utilize indigenous epistemologies to center the resiliency and power of our Ocean through the analysis of imperialism, colonialism, militarism, and globalization. Drawing from the work of Pacific Scholars including Teresia Teaiwa, Epeli Hau'ofa and many others, the past and present work of Pacific peoples is used as a compass to guide the work and local field forward.
The program aims to prepare students of all backgrounds to work in, support, service, and collaborate with Oceanic communities. Most importantly, it intends to further highlight the connections of Oceanic stories to Indigenous peoples and diasporic communities everywhere while also sharing the unique and diverse experiences of Oceania.
PROGRAM REQUIREMENTS
The minor in Critical Pacific Islands & Oceania Studies consists of 15 units of required courses: 6 units of lower division courses and 9 units of upper division courses listed below ---
Lower Division Courses
ETHS 100: Introduction to Ethnic Studies (D1, AERM, GP, SJ)
RRS 103: Introduction to Pacific Studies (D2, AERM, GP, SJ)
Upper Division Courses
RRS 303: Health and Wellness Among Pacific Islanders (UD-B, SJ)
RRS 410: Grassroots Organizing for Change in Communities of Color (UD-D, AERM, SJ)
RRS 433: Pacific Islanders in Film: Re-Presenting Oceania Through an Indigenous Lens (UD-C, AERM)
The Minor in Critical Pacific Islands and Oceania Studies articulates with programs at De Anza College, the College of San Mateo, and City College of San Francisco.
You can declare the minor online through My SFSU
Faculty in Critical Pacific Islands and Oceania Studies Minor include
Dr. Leora Kava lkava@sfsu.edu
Dr. Ponipate Rokolekutu prokolekutu@sfsu.edu
Sarah Wongking-Tanuvasa, MPH sarahmw@sfsu.edu